School trips
Course of adaptation
Mainly in the beginning of a new school year is a proper time for the group to get to know each other. The positive school and class climate and good relationships with the other students and also the teachers has for sure important impact on educational successes. It is also known, that sharing experiences and memories is one of the best ways how to bring people together.

Come to us and you will experience extraordinary adventures in the Bohemian Paradise. The area of Žlutá plovárna offers a number of outdoor experiences during which you will need to cooperate. We will prepare a programme tailored to your needs and requests, and it's up to you how much time you decide to spend at our place.
Choose a combination of activities, which will suit your class the most. A programme can look for example like that: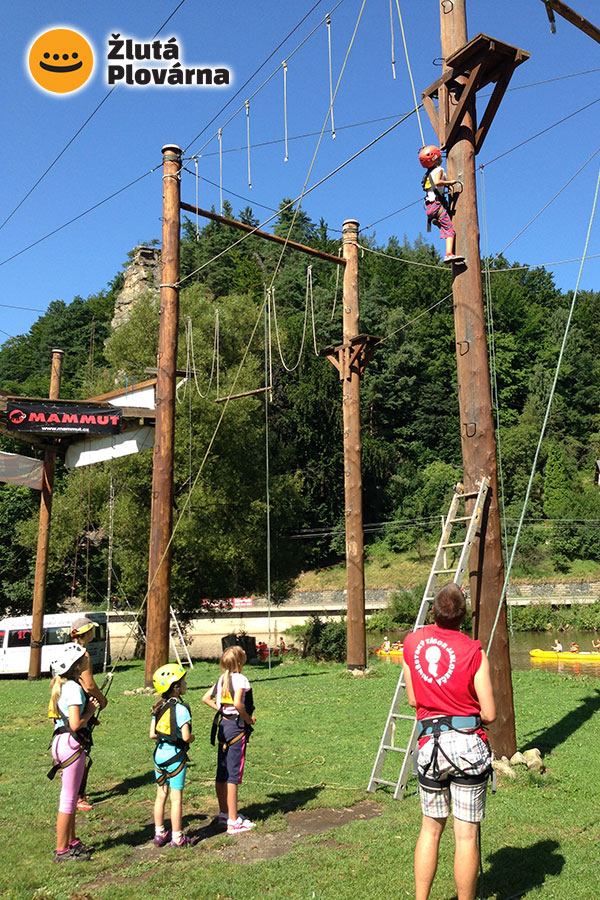 During all activities is in attendance an experienced instructor, who is in cooperation with teachers in charge, after the evening programme gives the students feedback and introduces the programme for the following day.
A possible schedule – the combination of activities is up to you
1st day
forenoon arrival accommodation
12.00 lunch in the guest house
2 p.m. trip to Malá Skála with a photo-orienteering
6 p.m. dinner in the guesthouse
night visit of the observatory in Turnov
2nd day
8.00 breakfast in the guesthouse
10.00 a.m. programme in the rope centre in Žlutá plovárna
1 p.m. lunch in Žlutá plovárna
2 p.m. trip on boats with an instructor from Malá Skála to Dolánky
5 p.m. return from Dolánky to the guest house on scooters – 2 routes, short and long
6.30 p.m. dinner in guest house
roasting sausages
3rd day
8.00 breakfast
9.30 team games in the area of Žlutá plovárna
12.00 lunch in Žlutá plovárna
later on using the sports fields in Žlutá plovárna
4th day
8.00 breakfast
before noon final evaluation of the course, farewell

Approximate price of this programme is 1900 CZK/student for all the listed services.